Cassidy's mom just sent us a copy of the Fran Powers tune "Six Weeks Every Summer, Christmas Every Other Year." Cassidy simply owns this version, written from a little girl to her father, while Richard Kearney joins in with a speaking role as "Dad."
To hear this song you can simply click here or on the picture above. Says Janet, "Nice 'old type' country."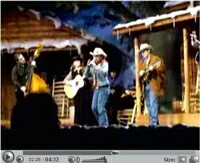 Known as "Cass" at YouTube, you can see Cassidy sing Janet's "Santa's Yodeling Song" at this link.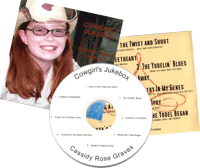 We put three songs from Cassidy's CD "Cowgirl's Jukebox," each one written by Janet, on our Audio page.
The Grand Ole Opry!
Please click the pictures above for larger versions.
Says Janet:
This young gal is a fan of yodeling and she gets around. These two photos were taken backstage at the Opry. She is another of our younger ones with whom we've been working 'long distance'. She lives in Tennessee. These photos are real current.
Cassidy's mother wrote of the pictures:
We went backstage at the Grand Ole Opry last night. Cassidy met a lot of people. Roy Clark was there. Cassidy is crazy about him. She also met Billy Walker and sang "I Want To Be A Cowboy's Sweetheart" for him.
Special Note:
Cassidy's appearance backstage with Billy Walker occurred approximately one month before he died in a tragic automobile accident. You can read more about his passing at the two links below.
Grande Ole Opry Press Release
Comcast News Article