June 19, 2015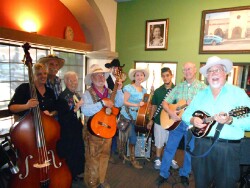 Please click to see a larger version.
On this date, Gerald Baumann posted the picture above on Facebook with these words below:
Gerald Baumann to Ann Buttram
performers at gene autry lunch/jam session with Devon Dawson.
Said Janet of the experience:
It was a fun day with the Gene Autry Lunch Bunch and I did have a good time with the group. Glad you got that photo. I have saved it to my computer.
I sang one song and dressed like the 'Opry' days. I hadn't performed with the bunch for a long time and it felt good.
Thank you Mr. Baumann for posting this photo!
April 9, 2015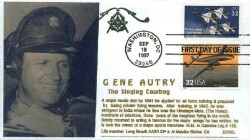 Please click to see a larger version.
Mr. Tony Runfalo submitted this photo to the webmaster after visiting HeroesWest and seeing the "actors who served in the military" page. He noted that we'd left out Mr. Autry, and was kind enough to include the following words:
You omitted Gene Autry who, against the wishes of Republic Pictures president Herbert Yates (who offered him a deferment), chose to enlist in the Army Air Corps on July 26, 1942.
Yates threatened to break Autry by building Roy Rogers into the new King of the Cowboys and telling Autry that he would be nothing after he returned from the war. Autry's reply to Yates was that "Republic should do whatever it chooses to do, but I am enlisting."
Republic spent over one million dollars to build up Rogers and when Autry returned four years later, he found Rogers was now the number one western star.
Autry regrouped. [He] fought Republic in court to be released from his contract, which he believed had expired while serving as a pilot, and won.
He moved to Columbia Pictures, formed "Gene Autry Productions," and pretty much picked [up] from where he left off in 1942.
After I thanked Mr. Runfalo, and requested permission to post this, he responded:
Dear Paul,
Please feel free to use my name and post my Gene Autry info to where you deem fitting.
Gene Autry was my hero as a child and remains so today. I watch his movies regularly, and I have visited the Autry Museum in Los Angeles twice and Gene Autry, Oklahoma once.
I have an original Gene Autry Lunchbox in the original box in unused condition and several original Gene Autry movie posters. I am a fan.
Sincerely,
Tony Runfalo
Needless to say, there is no way to thank Tony enough.
April 30, 2011
The four photos below are our latest additions to Janet's Gene Autry Museum page. The top two come from "The Daily Ardmoreite," dated November 16, 1941. On the left, you see the cover and, on the right, you see Mr. Autry's note of thanks for the honor of having a city renamed to reflect his own.
In the second row, you will see the cover of the "Gene Autry Oklahoma Star - Telegram" dated his birthday, 2006, and a button for which the webmaster does not have a date. The big publication covers had to be laid on the dining room table and photos taken by camera instead of scanner. It's an awesome privilege to own these documents and this trinket.


Gene Autry Museum Photos:


Janet's Lifetime Achievement Award Video.
The pics above are screen grabs from the video presented at the Gene Autry Museum September 26, 2009. They are originally from Janet's collection and the narrator on that film was Johnny Western. Clicking each small photo will bring up a larger version.

Tour of the Gene Autry Museum September, 2007.
This webmaster visited the Museum at the time indicated and was granted permission to take these pictures for Janet's website. Clicking the icon will take you to the photo album indicated.
Gene Autry Museum Documents:


September 22, 2007
When I visited the museum to take the photos referenced above, I was able to take home various publications. Here are a few, with their covers, that mention our Janet. Clicking each picture will bring up a larger version.
September 23, 2009
At this time, the Museum published a magazine to highlight their Film and Music Festival, and included a nice article about Janet. Below are the cover and the article. Again, clicking each photo will bring up a larger version.