From Janet:
Phil York passed away Aug 4th [of 2012]. I didn't know until I read today's paper with a photo of him and a very large article page 9B. Art Greenhaw had a part in it and it is a wonderful article.
Phil did some work for me in March but I had no clue he was so sick. He worked in my project at his own time and that was always fine with me.
I met Phil York in 1966 when I began recording for Dewey Groom. Phil York was the engineer on my first session for Dewey. This is a major loss to the recording industry.
Janet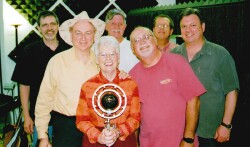 Please click to see a larger version.
This webmaster believes Mr. York is the man to Janet's right in the picture immediately above, and that we can see Junior Knight in the back of the group. This is the Yorktown Session dated March 8, 2009.
Here are some added words that came later from Janet:
Yes, Phil York is the one in the hat and Junior right behind him. All are session musicians for the 'Still Loving The Ride' CD. It's a very sad day for music.
There would not have been the 'great' 50 Years of Yodeling project' without him. I had tried to find someone who could do 'digital mastering' on my old 78 RPM recordings which would be vital to make that project since the recordings were made in 1951 and 1953.
Before Phil, I paid another 'digital' guy who said he could do it but I was heartbroken when I got them back because they just were not good enough.
I had visions of the type of project that we finally ended up with. I was talking with Junior Knight in that time frame and told him what I wanted to do and also told him that it looked like it was just a dream and he said 'contact Phil York,' so we did. The rest is history.
I have always called him the 'digital guru' and I meant it. WHAT WILL WE DO AND WHO WILL TAKE HIS PLACE?
I'M GUESSING 'NO ONE CAN'.
-o-
On May 9, 2009, Janet had this to say about Mr. York:
I hope we hear more/or get some hits on the site from this song ["Mama"]. If one person did it, there will be more. It is a powerful song and yes, it was also Phil who said, get it out for Mothers Day and he was right.
He's been doing this recording stuff for as long as I have been in Texas. He worked with Art [Greenhaw] on the Grammy recordings Art did and he worked with Willie Nelson on the Red Headed Stranger Album which won all kinds of awards.
He is by far the best in the nation on digital work for sure.
Re: label of the single CD "Mama."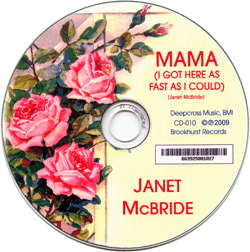 Phil York did the label. It was with his urging that we made it a single and he took on the chore of designing the label.
He scanned a very old cover of a piece of piano music. He had quite a collection of old sheet music stuff and chose that one. Phil loves the song and he got the best out of all of us on the session.
-o-