February, 2014
Chandler Bennett Visits
Amber Carrington!
Note from the webmaster: this announcement is also on our "From Janet" page for 2014, but we wanted to include it here because both of these young ladies sang so prominently at the Rodeo City Music Hall.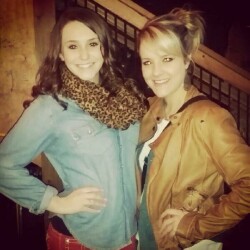 Here are Janet's words about Chandler Bennett visiting Amber Carrington in Nashville early February, 2014:
I talked with Chandler's Mom and they are up there taking in the town and visiting right now.
She and Amber are writing songs and will continue to meet for writing sessions as time goes on.
Amber is coaching and mentoring Chandler in every way she can.
Immediately below is a photo taken by the webmaster of Janet with Chandler at the Rodeo City Music Hall January of 2007. Below that is a composite photo of Amber and Chandler posted on Twitter, as was the picture above.
All three will show larger versions by clicking on them. Congratulations Chandler, and thank you Amber!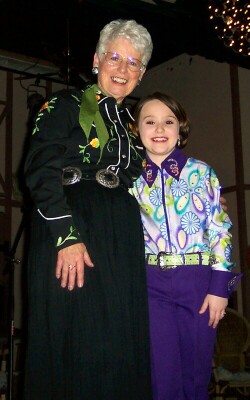 -o-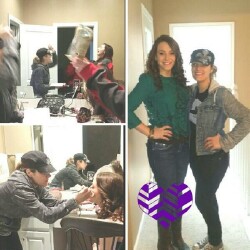 November, 2013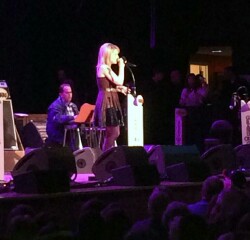 Please click to see a larger version.
Amber Carrington, once the star of Rodeo City Music Hall, and contestant on this summer's "The Voice," sang at the Ryman Auditorium for the first time on November 15. Way to go, Amber, and may there be many more such appearances! And way to go, Miss Clara Walker and Mrs. Karol Dyess!
June, 2013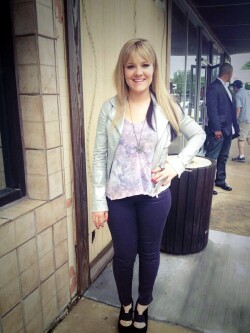 Please click to see a larger version.
Amber came home for a visit the first week of June, after being in New York to sing on "The Voice." She posted this photo on Twitter June 6, and stated the following: "Waiting to go into Rodeo City Music Hall to take a walk down memory lane! I miss that place so much!!" We miss you too, Amber!
May, 2013
Congratulations to Amber, Clara Walker, Karol and Robert Dyess, and all of those related to Rodeo City Music Hall for your contributions to keeping the show and theatre alive for young talent like Miss Carrington! Her appearance on "The Voice" is, in so many ways, thanks to you!
Amber Carrington
Paid Her Dues!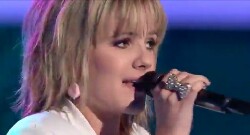 Please click to see a larger version.
Amber Carrington was a headliner for many years at the Rodeo City Music Hall, and is now a contestant on NBC's "The Voice."
When our Janet McBride decided to retire from the Mesquite Opry, she looked to pass the baton of providing a showcase for young people to demonstrate their talents. That baton eventually landed in the hands of Clara Walker and her stage manager, Karol Dyess.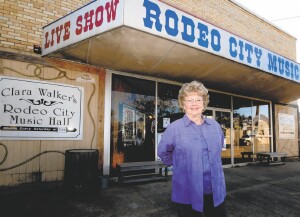 Carol Walker in front of her Rodeo City
Music Hall building circa 2010.
Both of these ladies worked tirelessly to provide that opportunity, along with Karol's husband Robert, who handled the sound system and other elecronic devices. Amber soon became an audience favorite.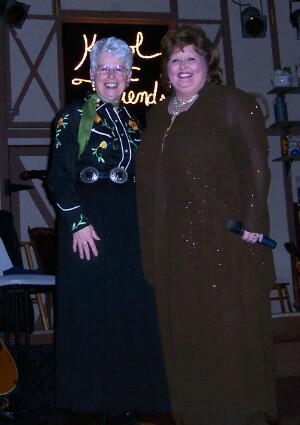 Janet with Karol Dyess
January 6, 2007.
This webmaster had the privilege, on more than one occasion, of visiting the Hall and taking photos to be placed on this site of Janet's. You can see several of those photos on this page.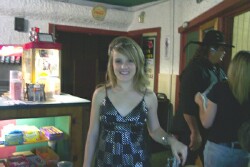 Amber Carrington, October 2007.
Please click to see a larger version.
One of the kindest people in the world is Amber's grandmother. She consistently showed her generosity by allowing this website to showcase Amber, not only photographically, but in sound as well. Below you can click to stream (on computer) several of Amber's early songs.
On My Knees
No Greater Love (featuring Eddie Carrington)
I Want To Stroll Over Heaven With You
Cowboy's Sweetheart
Win Wagon
Jailhouse Rock
So, yes, Amber is now on a world stage, thanks to a wonderful television show called "The Voice." But she has been working very hard for many years to hone her craft and develop her appeal. Thank you Clara Walker, Karol Dyess, Amber, and all of the musical guests who made the Rodeo City Music Hall such a wonderful venue!
-o-
Clicking on each of the photographs below will bring up larger versions with descriptions. Clicking on the wood button at the bottom will load the photo album from a concert during the month indicated. Please note: one of the photos of Amber is a duplicate of that shown above.