October 30, 2009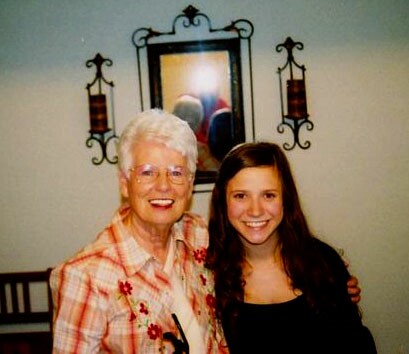 Perhaps it was her visit with Janet pictured above (taken November, 2008) which helped motivate Taylor's Email to Janet on this October, 2009 date. Below are Taylor's very nice words.
From: Taylor Ware
To: Janet McBride
Sent: Friday, October 30, 2009 12:56 PM
Subject: Switzerland!
Hello Janet,
Congratulations again on your Lifetime Achievement Award!
You are so deserving of all accolades you receive and you are such a wonderful and loving friend to me and to many.
Are you going to WMA this next month?
We are now in London, have been in Paris the past 5 days. But at first I was yodeling in Switzerland. Have had so much fun!
Here is a link to performance on Swiss national TV on Benissimo last Saturday night...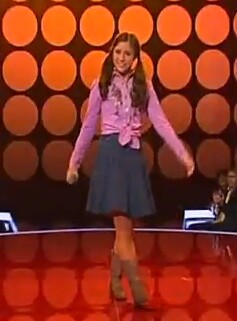 Please click this photo to see the video on YouTube.
Hope to see you soon.
Remember...
Yodel On!
XOXO,
Taylor Ware
-o-
June 21, 2009

Above you see the Taylor Ware so few have met, where glamor lies quite deep. Our tribute page is in gratitude for this young lady and her contribution to the art of yodeling throughout the country and now ... the world.
Both these, and the two screen grabs immediately below this section, were supplied by Jimmy, a serious fan of Taylor's who describes himself as "retired with too much time on my hands." Of our Janet he wrote: "Janet has long been my hero yodeler."
Thank you, Jimmy, for your love of yodeling, Taylor, and Janet McBride! You can see a picture of Jimmy with Taylor immediately below. "Mr. Jim" also supplied an updated link to Taylor's yodel teaching video on Yahoo, as well as the link to her Sunrise program appearance. Thanks again, Jimmy!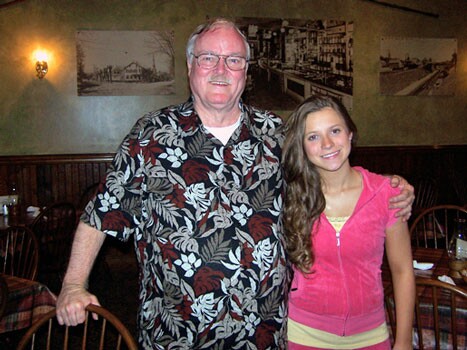 -o-
July 12, 2008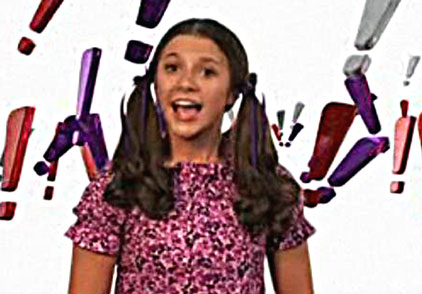 From Janet:
To all Buckaroo Yodel Kids, this is of Taylor Ware telling you how to 'do some yodeling stuff'. It is really easy to watch and she is really talking about stuff you can learn. Yes, I know her too.
Janet
----- Original Message -----
From: Taylor Ware
Sent: Monday, July 07, 2008 1:04 AM
Subject: We are in Australia!
Check out the brand new microsite I launched today with Yahoo! the internet company.
It's all about "Yodeling"!
Yahooooo!
http://uk.video.yahoo.com/watch/3028583/8664921
I'm on "Sunrise" show today, which is similar to "Today". There will be more TV, radio, and press this week.
Yodel On!
XOXO,
Taylor Ware
PS: I'm here in Australia until the end of the month.....Yahoo!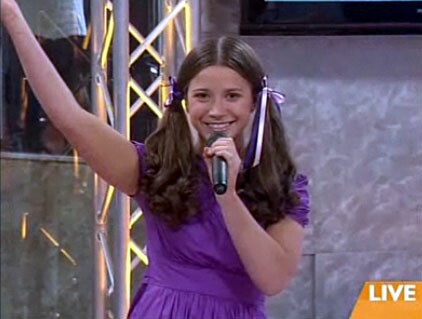 Here is a link you can click to see Taylor on the Sunrise Show: http://uk.video.yahoo.com/watch/3096365/8693948
-o-
Taylor Ware is a dynamic and accomplished yodeler who wowed the audience on NBC's summer of 2006 show, "America's Got Talent!" She followed that with another TV appearance on the Jerry Lewis MDA Telethon, then a radio appearance at the Grand Ole Opry, and so much more. She sang the National Anthem at the Liberty Bowl one year and there met LeAnn Rimes.
Fans developed a Forum website, and her official site went through a complete makeover. Add to those her two MySpace pages, and her YouTube videos (many supplied by "Mr. Jim"), and you have plenty of opportunity to "visit with" Taylor. She continues to sing at festivals throughout the country.
We plan, on this page, to give you glimpses of Taylor that aren't readily available in other places on the web. Below are clickable links to the sites just mentioned.
Here is an excellent sample of Taylor's yodel which you can stream.
Following are snaps from Taylor on the Rachael Ray show Ocrober 3rd, 2007. This was Ms. Ray's Oktoberfest program, and Taylor fit right in!
Just click on the wood button below to bring up the photo album.

Next we present screen grabs from her MDA television appearance in September of 2006.

Now we present various snaps from the Finals show of NBC's "America's Got Talent" just one month earlier.
Here are Janet's words after that show:
She did all she could and just nearly made it but Taylor Ware has managed to do as much for yodeling as Le Ann Rimes did in her day.
I know there will be some great things come her way because of the show. That publicity will open so many doors for her now.
I wish her the best always.
Janet

Special Note: One of the most outstanding things about Taylor's character is the way she responded when learning Bianca won the NBC Finals prize. As you peruse the album above, please observe her smiles and genuine joy for someone else's victory.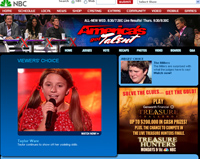 You can still see video of Taylor's performances on NBC's website here, or by clicking the photo above (which is a screen grab from NBC's AGT web page after Taylor had won).
Janet shared a few words regarding that winning performance of August 16th, 2006:
Taylor pulled it off.
She did a great job on a song that was originally designed without a yodel, but she practiced hard and made it work for her.
I am so very proud of her.
Let's 'brag' on Ranger Doug Green, a major star in the field of Cowboy Western Music and one of the top male yodelers today,
He took time to vist with Taylor and give her pointers for this performance.

Speaking of Ranger Doug, Taylor appeared at the Grand Ole Opry show September 23, 2006 on the Riders in the Sky segment 8:30 to 9PM, and again on the Riders segment 11:30 to 12midnight central time. She has enjoyed performances there more than once.
You can tune into the entire broadcast of the Grand Ole Opry on any Saturday by using the link above, and clicking "Listen" at the top left of the page.
You can go to the official Riders in the Sky web page by using the link below.