Still Going Strong
In 2020!
Happy 90th Anniversary
To The Doughboys!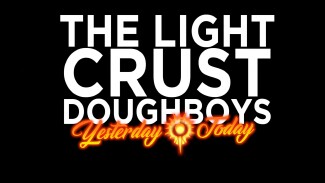 The year 2020 is freshly upon us, and producer Art Greenhaw just notified the webmaster of a brand new video celebrating this, the 90th Anniversary of the Light Crust Doughboy franchise.
Clicking the picture above will take you to it, and you'll see photos and performances at a very quick glance from the entire history of the Doughboys.
It's a high speed look at the founders of Texas Swing, and the many phases of their transformation. Enjoy!
Patti Page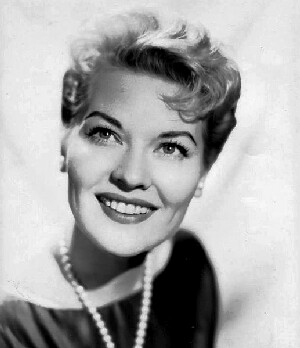 Miss Page died New Year's Day of 2013. Art Greenhaw, Doughboy producer, remembers her with these words:
My musical path has crossed a number of times with Patti Page, and thanks, Paul L. White, for requesting some comments and history.
To me, Patti's voice is one of the most lush, spiritual and inviting voices in all of recorded music history. Who can ever forget the mesmerizing mystique of "Tennessee Waltz", "Allegheny Moon", "Hush Hush Sweet Charlotte"? All these songs for me are just magical and feed my soul.
Surely angels were watching over Patti and these recording sessions. An album of Patti's that has influenced my gospel work is her JUST A CLOSER WALK WITH THEE Spirituals album. I'd suggest music lovers search out this album like one searching for a pearl of great price.
I was in the audience as a fan experiencing Patti's Show in Dallas' Fairmont Hotel Venetian Room. Later, I visited with her at some length at the 1999 Grammy Awards where she won the Grammy for her first-ever, live album.
The greatest of all my Patti Page connections is thanks to Larry "T-Byrd" Gordon when I traveled with his band/revue for a spectacular New Year's Eve Centennial Anniversary Tribute to the State of Oklahoma in Pasadena, California. T-Byrd and Revue were asked to accompany Patti as her backing band, and T-Byrd asked me to conduct the band for Patti's segment--no doubt since I knew her music, her style and loved her sound.
It was a fitting climax to a lifetime love affair with the music of Patti Page.
-ART GREENHAW
THE LIGHT CRUST DOUGHBOYS
You can learn more about Miss Page by clicking her photo above.
New Official Website &
Texas Highways Article!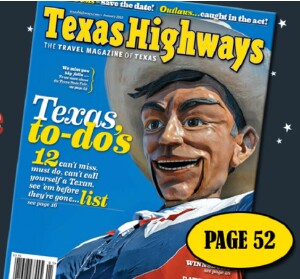 Clicking this Texas Highways picture will take you to the new official Light Crust Doughboys website. There you will find a link to Art's words in this magazine. Just click the second photo that displays on top of the home page.
And congratulations, Art, for acquiring the latest Doughboy--Dion Pride (pictured below), son of the great Charley Pride!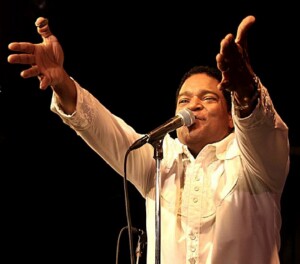 Light Crust Recipe Book!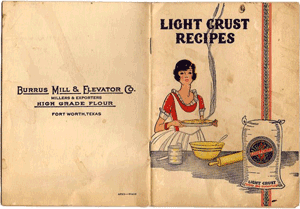 Light Crust Doughboy fan Tricia sent in two scans of the Burrus Mills "Light Crust Recipes" booklet for our website! Above you can see the cover, and below the title page. For either picture, please click to see a larger version.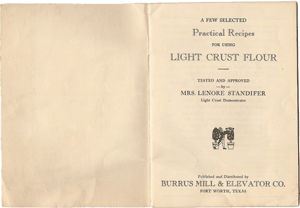 Thank you Tricia!
-o-
Bob Bogle of the Ventures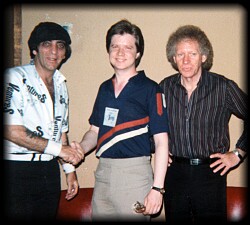 Doughboy producer Art Greenhaw writes below of Bob Bogle, lost in death on Sunday, June 14th, 2009. You can find this picture on Art's website by clicking here and scrolling down a little. In the picture, Mr. Bogle is on the right, and drummer Mel Taylor on the left.
This webmaster knew of Art's love for the Ventures and requested his comments. He graciously obliged.
Bob Bogle, as founding member of The Ventures, and along with Don Wilson and Nokie Edwards in particular, changed the shape of the world's pop music and tremendously influenced the dominance of the electric guitar as the premier musical instrument of 20th century recorded music. Words are insufficient at a time like this to describe all that Bob Bogle means to the world and to his friends, but allow me to try. Let the world remember that The Ventures are the 6th biggest-selling album artists of the 1960s, a decade many believe to be the most influential period in recorded music. Let the world remember that The Ventures for a period were the Number One composers in Japan. Let the world remember that Bob was a major creator of the guitar combo sound heard 'round the world beginning in 1960 with "Walk Don't Run" and essentially created the 4-piece beat group of three guitars and drums. I personally like to remember the fabulous "lead bass playing" of Bob who became one of the world's most influential electric bassists and my most influential bass guitar idol. I like to remember the marketing and promotional genius of Bob and The Ventures on the back of all the album covers that created "The Ventures Model" guitar sales explosion. I like to remember the classic album art and front covers featuring Bob such as "The Colorful Ventures" album that made posing with electric guitars so cool. But most of all, I like to remember the recent studio album of The Ventures titled ROCKY! where I had the privilege of co-producing and playing keyboards and backing guitar for over a month's period under the watchful eye of this major musical influence in my life.
A Ventures' album that I remember so well from my formative years contained these words in the liner notes: "Now there are no national heroes or aspiring future Presidents among The Ventures..." But what greater accolade can be said about a man like Bob Bogle who with his bandmates set the entire course of international pop music on the path it would take for the past fifty years and the rest of most of our lifetimes? Bob, bass and guitar-playing knight-of-the turntable, "beloved invader of the East from the West", international musical ambassador of goodwill----- "we'll meet you in the morning"...and Bob, we'll meet again everytime and anytime a kid anywhere straps on an electric guitar or bass and plays instrumental pop or rock guitar...
Ventures forever,
ART GREENHAW
-for THE LIGHT CRUST DOUGHBOYS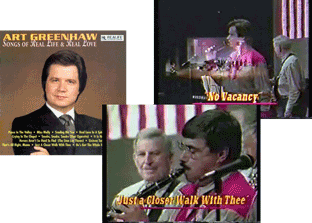 We added two video clips in Microsoft Streaming format to our video page. We also redesigned our audio page to more easily facilitate song additions and selection.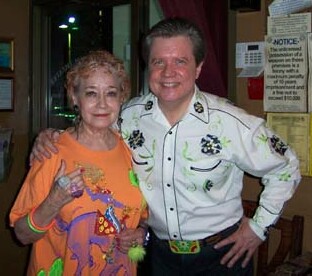 From the Pocket Sandwich Theatre Concert May 1, 2006
Please see our Photo page to view the new album.
-o-
Art and the Doughboys have a Yahoo Group!

Click to join guitarsovertexas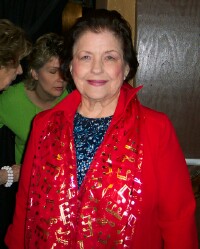 Carmen Hamilton
A big Shout Out goes to Carmen Hamilton for her great effort in booking concerts for the Doughboys!
You can visit the official Light Crust Doughboy site at the following locations: