BALANCE
Oft I wonder how in all
The world's great woes you beam
Your vision straight, in stature tall,
As you prepare that world to ream

Us, every one, of terror's plight,
By land, by air, or sea;
For you've received our fathers' Light
To keep this Land more Free.

Then how so, too, you bend to face
The weaker folk who reach
For help, and recognition's Grace.
And by example teach

That all who breathe in this Fair Land
Bring Value to our shore;
Each can take a Proper Piece
Of Nation to the fore.

© Paul L. White, 2002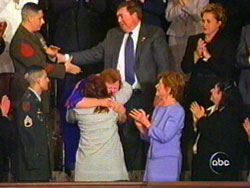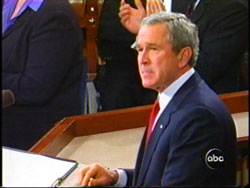 We have a brief video of this moment here.
-o-
Highlights From the Republican Convention - September 2, 2004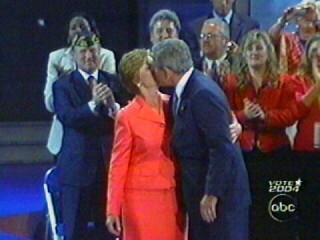 The President demonstrates his enduring love for the First Lady.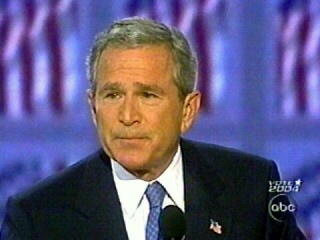 President Bush tears up when remembering his meetings with families of fallen heroes in war and in New York.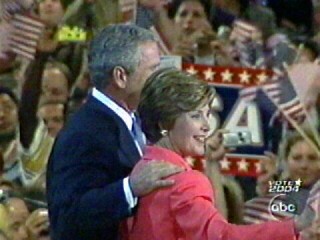 First Lady Laura Bush exercised great judgment in separating from a speaker who attacked John Kerry personally.
-o-


President Bush smiles as he announces, to the Iraqi people, the end of their fear.
The President hugs a child ... whose mother was murdered on 9-11-01. You can see a description of that event here.
-o-
My first and only "meeting" with George W. Bush came, of course, while he served as Governor of Texas. I was having trouble getting the help needed from more than one agency, even though qualified.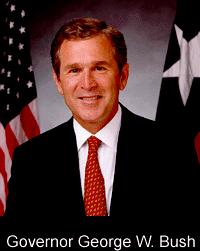 Our Governor was quick to respond, and floored me with his humility. Please introduce yourself to the correspondence.
Certain details have been covered or removed to protect those involved.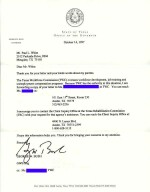 Please click to see a larger version.
As you can see, President Bush has a great love for his parents. This is truly one reason to choose him as hero.
At the same time, it may be one of the clues to understanding his passion in our country's current conflict with terrorism.
Is he truly the "gung ho," and "you got my Daddy, I'm gonna get you!" type of person so many portray him to be?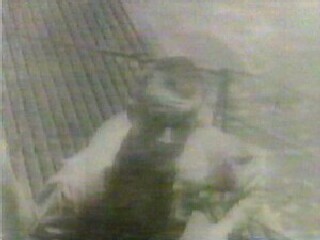 President Bush, Sr. suffered the loss of his plane in World War II. President George W. Bush has known about that most of his life.
As much a family man as President Bush, Sr. is, doesn't it stand to reason that father and son have been close for a long time?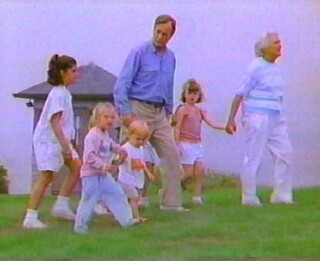 Why would President Bush, Jr. want to expose other people to the same danger that his father experienced?
President Bush, Sr. admitted that he is not an eloquent speaker (Republican Convention 1988). Wonder if anyone picked up on the reason that would be?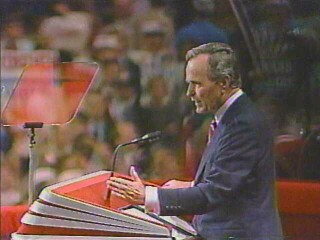 Isn't it true that he once chaired the CIA? Wouldn't that make him covert instead of extrovert?
And doesn't it make sense that he, and his family, might still have ties with the CIA? Wouldn't they therefore be privileged to private and secure information, not only now, but for a number of years?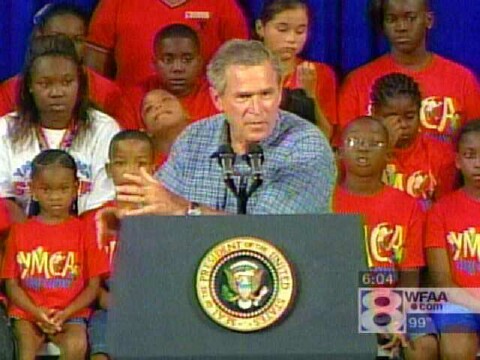 This information must be the reason our President wishes to defend us against terrorism. He knows, like very few, what perils lie before our nation.
Am certain that he would avoid war if possible. No "people person" could endanger the lives of our youth unnecessarily.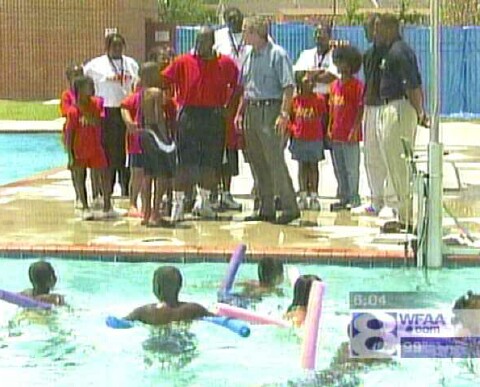 WFAA TV is ABC's number one
affiliate station in the country.
But, lest these arguments aren't enough ... to discredit the many claims that President Bush was a warmonger gone loose, and far too conservative for his own good ... please consider the following. You will hear President Clinton's view of Saddam Hussein.
(my computer tells me this sound file was last modified January 31, 1998)

-o-
And what about the scene below, dated Friday, November 7, 2003?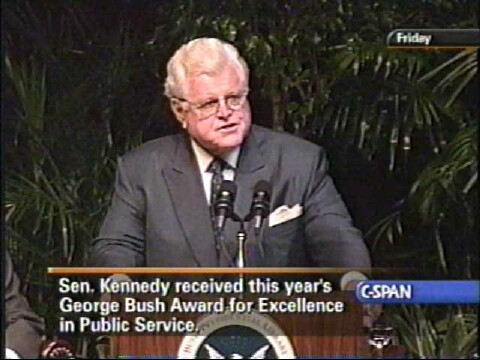 C-SPAN, a wonderful resource for news as it occurs, can be viewed on either your cable network, or the web.
---
Food for thought.