Song Lyrics from Janet McBride
We will start out with just two songs from Janet - "Mama" and "Wyoming Rose" - in honor of her newly released CD "Still Loving The Ride."

It's clear that both songs were inspired by her Mother, pictured below. And both tell a wonderful story.
MAMA
By Janet McBride
© 2009, Janet McBride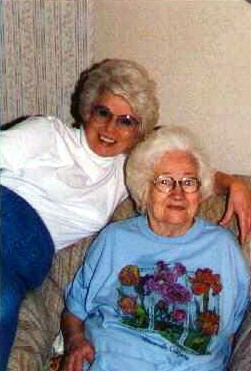 I COULD HEAR HER CALLING ME
FROM THE GARDEN GATE
HER VOICE MEANT TO HURRY HOME
AND I KNEW NOT TO WAIT
I'D TELL MY FRIENDS GOODBYE AND WAVE
THEN I'D RUN ALL THE WAY
TILL I WAS WRAPPED IN MAMA'S ARMS
AND THEN SHE'D HEAR ME SAY

I GOT HERE AS FAST AS I COULD MAMA
I WISH I COULD HAVE PLAYED A LITTLE LONGER
THEN MOM WOULD TELL ME
I WOULD ALWAYS BE HER LITTLE GIRL
AND EVERY DAY MY LOVE FOR HER GREW STRONGER

MAMA'S HANDS WERE ALWAYS THERE
TO HOLD AS TIME WENT ON
HER ARMS WERE ALWAYS OPEN WIDE
TO KEEP ME FROM ALL HARM
SHE TOLD ME OFTEN TO BE CAREFUL
WHEN I PICKED MY FRIENDS
BUT WHEN 'I HEARD HIM' SAY HE LOVED ME
I THREW CAUTION TO THE WINDS

I KNEW HE HAD A WILD STREAK
AND FOLLOWED RIGHT ALONG
I NEVER GAVE ANOTHER THOUGHT
TO WHAT WAS RIGHT OR WRONG
I THINK MAMA ALWAYS KNEW
SOME DAY I'D HAVE TO PAY
AND IT WAS MAMA TO THE RESCUE
WHEN SHE HEARD ME SAY

GET HERE AS FAS AS YOU CAN MAMA
THERE'S NO ONE ELSE TO HELP ME 'MOM'
SO PLEASE COME SET ME FREE
I THINK SHE KNEW I'D NEVER MAKE
THOSE SAME MISTAKES AGAIN
AND AS WE LEFT THAT AWFUL PLACE
MY MAMA HELD MY HAND

RECITATION

I GOT A CALL TO HURRY TO
HER HOME THE DAY SHE DIED
I SAT DOWN BESIDE HER BED
AS TEARDROPS FILLED MY EYES
SHE KNEW THAT IT WAS ME
WHO HELD HER HANDS THAT DAY
AND I SAW A SMILE ON MAMA'S FACE
WHEN SHE HEARD ME SAY

I GOT HERE AS FAST AS I COULD MAMA
I HOPE SHE KNEW HOW PROUD I WAS
TO BE HER LITTLE GIRL
AND I COULDN'T HELP BUT WISH
SHE COULD HAVE STAYED A LITTLE LONGER
HOW WOULD I LIVE WITHOUT HER IN MY WORLD

THO SHE'S BEEN GONE FOR YEARS
THE OTHER DAY I HEARD HER VOICE
IT SOUNDED LIKE SHE'D NEVER GONE AWAY
SHE TOLD ME SHE'D BE WAITING FOR ME
BESIDE HEAVEN'S GARDEN GATE
AND I KNOW WHEN I SEE HER WHAT I'LL SAY

I GOT HERE AS FAST AS I COULD MAMA
I GOT HERE AS FAST AS I COULD
WYOMING ROSE
By Janet McBride
© 2000, Janet McBride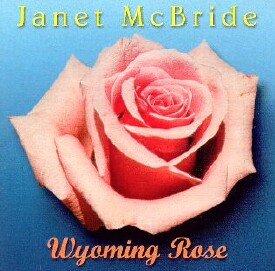 HER EYES WERE AS GREY AS THE SKIES OF MONTANA (chorus)
JUST BEFORE WINTERS FIRST SNOW
THOSE EYES HAD A SPARKLE THAT NOTHING COULD MATCH
EXCEPT MAYBE A MOUNTAIN STREAM'S FLOW
HER HAIR WAS THE COLOR OF ASPEN IN FALL
AND THE LIGHT OF THE MOON MADE IT GLOW
SHE TOLD ME SHE'D WAIT, BUT I NEVER RETURNED
TO MY BEAUTIFUL WYOMING ROSE
I SAW HIM AS HE SAT ALONE ON HIS BUNK
IT WAS PLAIN HE WOULD RIDE NEVERMORE
HIS SKIN WAS LIKE LEATHER FROM RIDING THE RANGE
AND AS ROUGH AS THE BOOTS THAT HE WORE
HE MOTIONED FOR ME TO COME SIT DOWN BESIDE HIM
IT SEEMED HE HAD SOMETHING TO SAY
I FIGURED HE'D TALK ABOUT HORSES AND ROUNDUPS
SO I SAT DOWN TO HEAR WHAT HE'D SAY
HE SAID 'YOU REMIND ME OF SOMEONE I KNEW'
IN THE DAYS WHEN MY AGE DIDN'T MATTER
I MET HER ONE SPRING WHEN I WORKED THE SPREAD
WHERE SHE WAS THE LAND OWNER'S DAUGHTER
WE SPENT THAT SUMMER IN EACH OTHERS ARMS
AND MADE PLANS TO LIVE OUR LIVES TOGETHER
I LEFT HER TO EARN US A PLACE OF OUR OWN
AND I PROMISED I'D COME BACK TO GET HER
HE SAID 'TIME SLIPPED AWAY AND THO I SAVED MY PAY' (recitation)
IT SEEMED IT WAS NEVER ENOUGH
CAUSE SHE WAS A LADY AND I JUST A COWBOY
AND LIFE ON A RANCH WOULD BE TOUGH
I COULDN'T SEE HER WASTING AWAY
WITH LESS THAN THE LIFE SHE WAS USED TO
BUT WHEN I SAW YOU THERE WITH YOUR LONG ASPEN HAIR
I THOUGHT HEAVEN HAD COME INTO VIEW'
CAUSE HER HAIR WAS THE COLOR OF ASPEN IN FALL (riff in the music)
AND THE LIGHT OF THE MOON MADE IT GLOW
SHE PROMISED SHE'D WAIT, BUT I NEVER RETURNED
TO MY BEAUTIFUL WYOMING ROSE
-o-