Mallary Hope Signs
New Record Deal!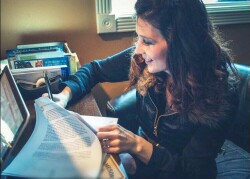 Please click to see a larger version.
On January 7, 2016, Mallary posted the following on her Facebook account. Finally!
Congratulations Mallary!
So excited to share that I signed a new record deal!! I'm so grateful to my management team at [sic] Mcghee who have not given up on me when others have.
These last 4 years, career wise, I've felt so often like I wasn't getting anywhere. Now I know it was out of my control and in God's hands...
I'm so thankful to have found a record label who believes in me as an artist. My voice, my songs & my message.
It's such an exciting time for me to know I'll be somewhere where I can make a Christian & Country album. I'll finally (after 12 years) be able to have a fully produced & *released* album.
I'm so excited to be able to get it out to my fans. (I hope I have some left) [smile emoticon] I'll be able to share more details soon, so Stay tuned.
Huge thanks to all of you who have been rooting for me. I'm so excited to see where this journey takes us. Bring it on 2016!
April, 2015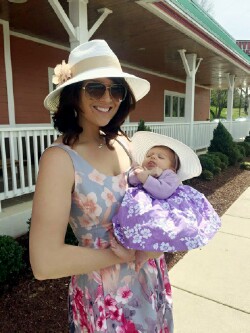 Please click to see a larger version.
Said Mallary when she posted this picture: Yes, I am one of "those" moms.. Congratulations again, Mallary!
January, 2015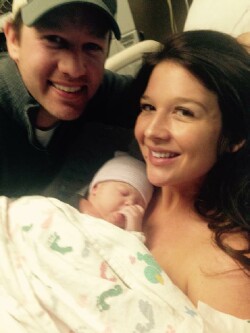 Please click to see a larger version.
Here is what Mallary wrote to accompany this photo:
Hi World,
I was born at 11:15am today .. Weighing in at 7.4 lbs and 18.5 inches long.. My name is Scarlett Ruth Dokke..
Mommy and I are both healthy & thankful that [it] was an easy, painless birth. Daddy is so in love with me already.
Thank you all for praying for us.
April, 2014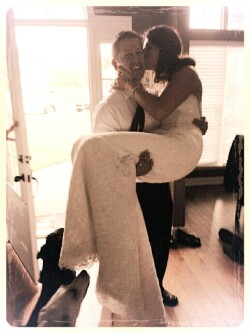 Please click to see a larger version.
On Sunday, April 13, 2014, Mallary and her husband Ryan married at the church where Mallary's father pastors. Here is what Mallary said on Facebook when she posted this picture April 18:
Thank you all for your kind words of love and support I'm so happy. The happiest I've ever been and can't wait to continue to share our journey with you. That's a wrap on the annoying posts for the day.
PS: I made him carry me over the threshold over our new home and life together. And then the dogs tried to eat my dress…..
Congratulations to you both, Mallary and Ryan.
December, 2013
Mallary Hope's Song
Sung by Danielle Bradbery
Theme of 2014 Winter Olympics!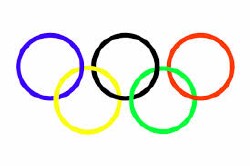 Mallary Hope wrote the following via social networking on December 10, 2013:
I am so excited and thankful that my song "My Day" recorded by Danielle Bradbery (winner of "The Voice") will be the "Theme Song" for the 2014 Winter Olympics. The first commercial will air tonight on NBC during "The Voice."
I have a show in Dallas so I will miss it. Baby you better hit record on the DVR for me.
Huge thanks to Allison Jones and everyone at Big Machine for believing in my song and allowing DB to cut it.
When I wrote this song 5 years ago and recorded it, I told everyone I knew that if I ever got the chance to make a video I could see the vision in my head of what I would want. I wanted to incorporate scenes from "The Biggest Loser," breast cancer walks, soldiers returning home from war, kids graduating, and, yes, even the Olympics.
I tried, but couldn't bring my dreams to reality. Now I understand why. It wasn't meant for me.. It wasn't (yes wait for it) "My Day," it is her day.
It is pretty amazing how someone else can help make your dreams come true. Even after you thought your moment had passed. So very, very happy at this moment.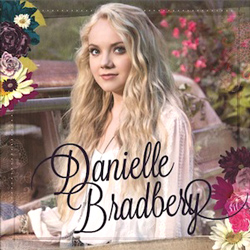 You can hear the song "My Day" on Danielle's new album. You can also learn more of Mallary's recent successes on our Mallary Hope page here.
November, 2013
Mallary Hope on Fox and friends!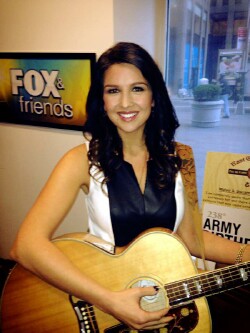 Mallary Hope appeared on the "Fox and friends" show November 15. Afterwards, she was featured on the After Show, and then traveled over to CNN for a stint there. Both the photos immediately above and below will yield larger versions if you click on them.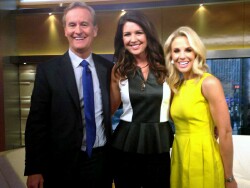 -o-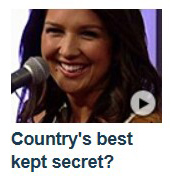 Later in the day, the Fox News web page made Mallary a news item by showing the picture above as one of their features.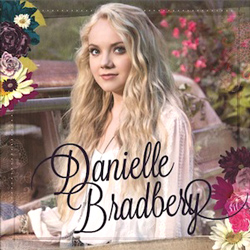 Mallary also Tweeted about Danielle Bradbury on November 12: "pretty honored to hear this talented young lady say that her favorite song on her new album is my song 'My Day.'" And these are only some of the latest happenings in Mallary's career!
October, 2013
Mallary Hope Engaged
At the Grand Ole Opry!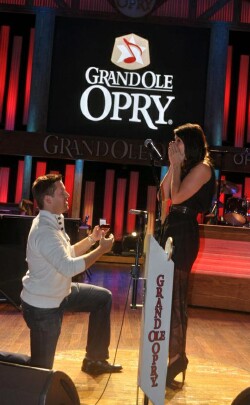 Please click to see a larger version.
On Saturday night, October 26, Mallary Hope performed at the Grand Ole Opry, her scheduled time being 7pm. While she was standing in "the circle," her long-time beau made a grand entrance. He proposed, and she responded "yes."
Said Mallary via her social networks: If anyone wants to watch the engagement .. I think I heard that Fox and Friends is running the video tomorrow morning sometime. Ahhhhh! Can't believe I'm engaged! Thank you all for the sweet comments. Anyone have any marriage advice?
You can see one of the first articles on this event by clicking here. The lucky young gentleman's name is Ryan Dokke. Congratulations, Ryan and Mallary!
November 5, 2012
Country Music
Hall of Fame!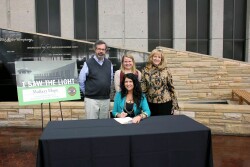 Please click to see a larger version.
Here's what Mallary said when she posted this picture on Facebook November 5, 2012:
Our official picture.. Thank you so much @countrymusichof for inviting me to be a member!! it means SO Much to me. I LOVE COUNTRY MUSIC
You can follow the Country Music Hall of Fame on Twitter here, and visit their website here.
October 6, 2012
At the Grand Ole Opry
Once Again!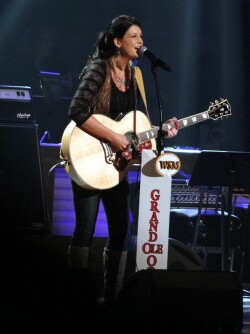 Please click to see a larger version.
Mallary appeared at the Opry Saturday night, October 6th. The photo above is from that performance. More and more she gets to sing there. Congratulations, Mallary!
August 13, 2012
Mallary and Sarah Evans!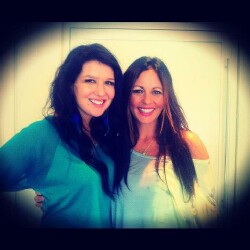 Said Mallary on Facebook August 13: "Sarah Evans & I writing today :) love love love her. and our songs."
Way to go Mallary!
March 23, 2012
Mallary with Ricky Skaggs
At the Grand Ole Opry!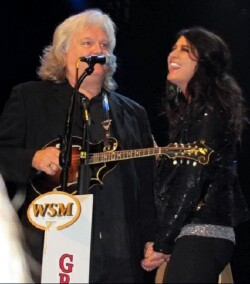 Please click to see a larger version.
Mallary Hope appeared at the Grand Ole Opry Friday March 23rd. Ricky Skaggs introduced her!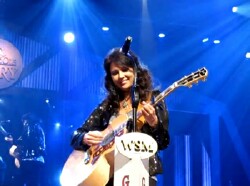 Please click to see a larger version.
You can see a YouTube video of Mallary's performance by clicking here. The photo above is a screen grab from that video.
April 20, 2011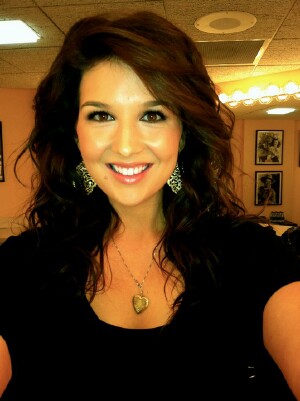 Mallary Hope continues to rise and make herself known in the Nashville music scene, having appeared at the Grand Ole Opry, the Ryman Auditorium, and on a video with Taylor Swift, among many other accomplishments. Though she tries to avoid calling attention to any glamor, the two pictures here demonstrate her appeal. Mallary's great draw, to this webmaster, is that she remains loyal to both God and Family.
You can click either of these two photos for larger versions, and you can click either the Twitter or Facebook logo below to go to her pages on those sites. Congratulations Mallary for your continued success!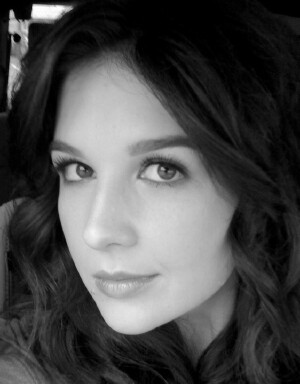 -o-
From Ms. Kaye Whitener July, 2009 re: a tribute to our Janet for the Gene Autry Museum in lieu of Janet's upcoming Lifetime Achievement Award in September, 2009
Congrats on the Award Janet.
I know you truly deserve it.
To the Gene Autry Museum: I hope this is what you are looking for, it's just a little history of meeting Janet and her connection to Mallary.
Mallary was 11 years old and was performing a version to the LeAnn Rimes "Cattle Call" at shows when I started going on the web looking for help in teaching her how to learn to yodel correctly. I found Janet on her website and emailed her. She quickly returned my email with a phone number and we began a long conversation about Mallary and yodeling.
Janet has such a heart for teaching children and you could tell it even over the phone. We were looking for some yodeling songs that Mallary could record and perform out at live shows and Janet was such a wealth of information and sent us several of her songs to listen to just to see if that was what Mallary was looking for. The first song Mallary
recorded was Yodeling At the Grand ole Opry. Janet also sent some technique tapes for Mallary to practice with.
We stayed in touch and Janet called one day to say they would be coming through our town on the way back from Florida and wanted to see if we could meet and maybe she could work with Mallary personally. We rented a room at the Whitfield County Convention Center. Janet stayed with Mallary for two hours going over technique and delivery. We tried to pay Janet for her time and she wouldn't take any money at all. We agreed simply on buying dinner for her and her husband at Cracker Barrel.
Over the next few years we would stay in touch by email. Mallary had met a young boy two years older then herself when she was 15 and they started singing together. We contacted Janet looking for a Yodeling duet for them to perform together and again Janet came through with flying colors and sent us "Yodeler's Dream". Mallary and Justin performed this and received many awards at competitions. They even went on the following year to the finals at the Colgate Country Showdown.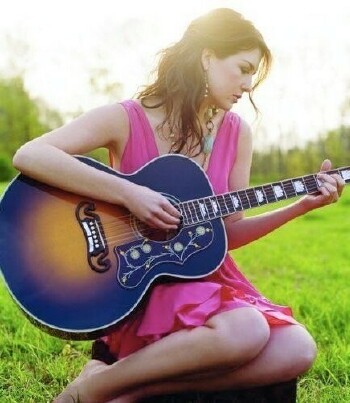 Mallary was performing roughly 100+ shows a year when we decided to move to Nashville TN. She was just finishing up her Junior year of high school and was homed schooled her senior year. Withing a year of moving to Nashville Mallary received a demo deal from RCA. During the one year contract she was introduced to Mark Bright the producer for such acts as Carrie Underwood, Rascal Flatts, Sara Evans, Reba McIntyre and many more. Sony and RCA merged that year leaving the label top heavy with artist is and no place for a new artist.
During the next year Mallary fell under the creative wings of Mark Bright who signed her to a publishing deal with My Good Girl / Sony Publishing. Within 7 months she had her first cut with Emily West which became her single called "That Kind Of Happy".
After three record label offers within three weeks Mallary landed at Universal Records Nashville. She recently cut her first album and 10 out of the 11 songs are her songs.
Last week she finished her first video to her Single "Love Lives On" which will hit radio August 3rd and be available for download Aug. 4th [2009] at Amazon.com.
There is no magic yellow brick road into the music business however with people out there like Janet McBride willing to share her talent with young people it makes the journey easier.
We are so proud of Janet and proud that God put her in our lives.. Congrats again on this award.
-o-
From Kaye Whitener:
January 18, 2010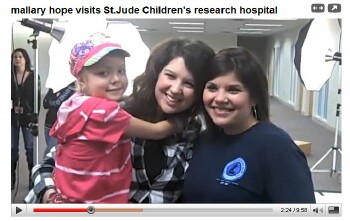 Please click to see a larger version.
I had to share this video with you guys of Mallary's visit to St. Jude in Memphis last week.
Last week was Country Cares week and a lot of Country Music artists go and spend the day with children and their families and sign autographs etc. They paired Mallary with three children, one is Jayden who is 2 and will be turning three 2-16.
Jayden had been throwing up a lot over the past year and his parents had taken him to the doctor. the doctor finally told them that they were only seeking attention that children throw up.
Of course they knew this was not right so they found another doctor who immediately ran tests and found that Jayden has brain cancer. His family has been at St. Jude's since July. The doctors there have told them that the cancer has spread too far to really be able to do anything about it now, and they are simply keeping him comfortable and trying to slow it down.
I said all of that so that when you go through this video pay attention to Jayden, because now you know his story and if fact it could be any one of our children / grandchildren at any time.
Please note the lullaby song that is playing in the background. That is a song Mallary wrote a few months ago for a little girl who lives across the street from us. She is 7 years old with Brain Cancer as well.
Please keep these families and children in your prayers.
http://www.youtube.com/watch?v=Rgt_CVY7gXI
You can see the video by clicking this link.
August 27, 2009
Mallary will be on CMT Friday Sept. 4th at 8/7 Central. Also she is in the Country Weekly Magazine today.
Plus on Saturday Oct. 24th [for the] 7pm and 9pm shows Mallary Hope will be perforing at the Grand Ole Opry…
August 26, 2009
Hello all,
A couple of really neat things going on the the Mallary Hope camp right now. Mallary's video is now airing on CMT and GAC. I know that GAC is playing it two times a day but you can also go on line and watch the video at either place - www.cmt.com or www.gactv.com.
We are asking for you to go on www.gactv.com/vote.html and vote for "Love Lives On" by Mallary Hope so we can make it into the top 25 Videos of the week.
Tomorrow, Thursday Aug. 26th, Mallary will be in the Country Weekly Magazine. Please make sure to pick up your copy.
ITUNES - for those of you not familiar with ITUNES, it is a venue on line for all types of music to be purchased and downloaded. It is for all types of music and this week Aug 24-28th you can now download it for because she is this week's SINGLE OF THE WEEK.
We are asking that you ask at least 5 friends to go on line and download the music. You can also purchase a couple of her other songs and her video.
Also please remember to call your local radio stations and request "Love Lives On" by Mallary Hope. If they do not have it ask them to add it to their play list.
Mallary opens a show for Blake Shelton in Seattle, WA on Sept. 1st. On Wednesday, Sept. 2nd, Mallary will be performing a USO tour at Fort Lewis, WA.
It's been a great start. Thanks to all the Fans, the response to "Love Lives On" has been unreal... Thank you for your prayers and support.
July 30, 2009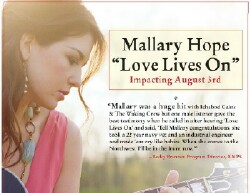 Check on the 2nd page of this PDF file attached for ad. You can see the .pdf article by clicking the image above.

This Sunday Aug. 2, 2009 The New York Times Magazine will have an article about Carrie Underwood, Taylor Swift and newcomer Mallary Hope. Clicking the New York Times image will bring up this article.
8-31-09 Country Weekly will have an article about Mallary.
Mallary's single will hit Country Radios Monday Aug. 3rd and you can purchase three of the songs off her album Tuesday Aug. 4th at www.amazon.com.
Thought you would all like to know... Thank you for your prayers and support.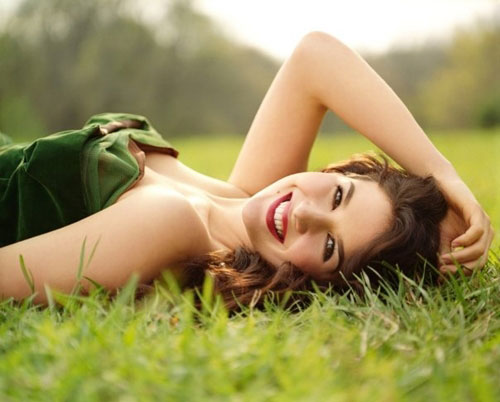 June 17, 2009
Mallary starts her Official Radio Tour Monday June 22nd with the first stop being at US101 in Chattanooga, TN. She will be on the Radio at 12:00 noon hopefully they will be playing her new Single "Love Lives On" that doesn't come out until July 27th.
A lot of her fans are planning on being at the station with signs and showing their support. If you can go that would be wonderful, if not please be sure to listen.....
You guys have been there from the beginning and we THANK YOU for all of your prayers and support..
If you are not in the listening area of Chattanooga's 101 you can listen live here:
http://www.us101country.com/main.html
Again thank you so much... and please continue to keep Mallary in your prayers as she travels. She will leave Chattanooga and go straight to Atlanta and be on air at 4:00 there and press on to the next station. She will be gone 5 weeks on this Radio Tour.
Her web page is in the process of being re-done as well as her myspace. She is scheduled to shoot her video on July 20th.
Thanks again :)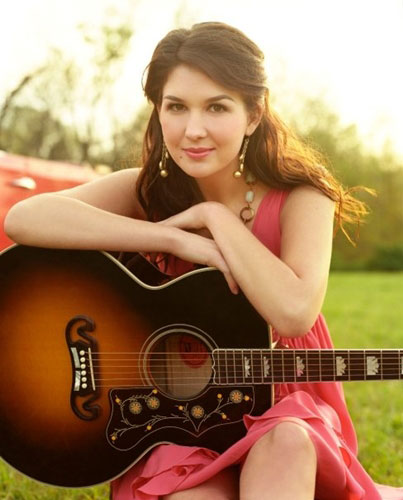 March 19, 2009
If you would like a sneak peak at Emily West's new single That Kind Of Happy (which Mallary wrote), read the following article and click on listen... Leave your comments.
http://www.the9513.com/emily-west-that-kind-of-happy/#comment-124230
December 9, 2008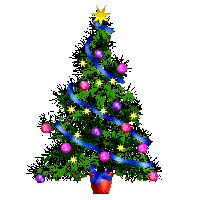 Christmas invitation!

Please click above to see the 2008 Christmas greeting.
November 24, 2008
11-24-08
NEWS from NASHVILLE
Universal Music Group
Announces their newest
"Country Music Artist"
MALLARY HOPE
Mallary will join the UMG group with artists such as George Strait,
Bon Jovi, Josh Turner, Gary Allen, Shania Twain,
Julianne Hough, Sugarland, Lee Ann Womack
and many more.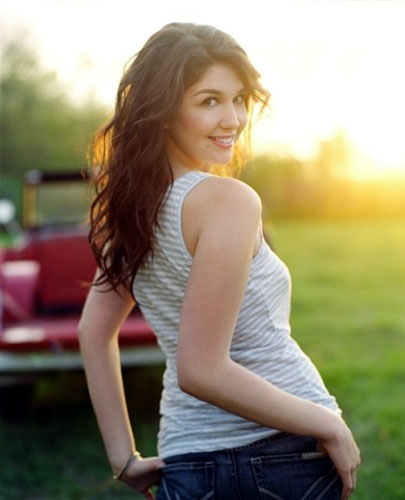 From Janet July 10, 2008
Let's remember Mallory Hope. I just heard from her mother and she is in Nashville writing songs with some of the big 'tunesmiths' and has songs on hold for some of the top stars.
-o-
Mallary and Justin Tyler Wilson
Press Release by: Ms. Kaye Whitener, November, 2003
16 Year old Mallary Hope, and 18 year old Justin Tyler Wilson, have formed one of today's hottest new Duos.
Performing together for two years, they have traveled all over the Southeast. They have also performed two tours in Pennsylvania, opening for such acts as Joe Nichols, T. Graham Brown, The Clark Family Experience, T.G. Shepherd, Miss Kitty Wells, Little Jimmy Dickins, Bill Anderson, Blake Shelton, George Jones, Keith Harling and the list goes on and on.
These two teenagers have dedicated the past 8 years to performing on the road. They have won numerous titles individually and together, including the 2003 Southeast Regional Colgate Country Showdown Championship, and the 2003 & 2002 NACMAI Duo Of The Year Award.
Mallary & Justin will be competing for the finals in Orlando, Fla. at Disney World's Epcot Center, with Host Billy Ray Cyrus, for $100,000, plus a Lyric Street Recording Contract, January 15-17th 2004. The show will be televised spring 2004.
They are both persuing a career in the music industry, and are grateful for the opportunity to be a part of the largest Country Competition.
Both will be attending Belmont University.
-o-
Wednesday, November 19, 2003
After a search on the Internet looking for some instructions on Yodeling, I came across Mrs. Janet McBride's site. I e-mailed her and we began a friendship that I value very dearly.
Janet has worked with both Mallary and Justin in several workshops and individual lessons. She has helped them understand the methods and techniques to yodeling. She is such an great inspiration and teacher.
Mallary and Justin perform one of Janet's songs, "Yodeler's Dream," and have brought down audiences everywhere they perform it.
We are truly grateful for her friendship. She is the "best of the best."
Thanks Mrs. Janet, we love you.
www.mallaryhope.com
www.justintylerwilson.com

Email: (Mallary) kayewhitener@yahoo.com
Email: &nbsp(Justin) wtwilson@bellsouth.net