LeAnn and Eddie
Christmas Night, 2017!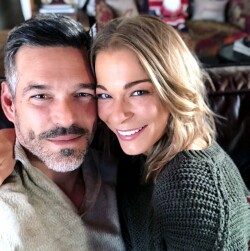 Please click to see a larger version.
Our LeAnn posted the above photo on her Twitter account Christmas night. It showcased the love she and Eddie continue to share. Here are her words:
@leannrimes · Dec 25
Christmas Night LovE from us! It has been a blessed day with the kiddos and the fam! Hope you have all had the same. @EddieCibrian
Wishing you many more Christmas nights, LeAnn and Eddie!
Janet Sees
LeAnn at
Choctaw-Durant!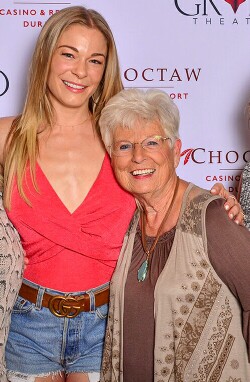 Please click to see a larger version.
Our Janet went up to Durant, Oklahoma to see LeAnn Rimes-Cibrian perform at the Choctaw Casino on July 1. This is the picture taken of the two of them. We will have Janet's words on the occasion in the very near future. And we'll be sharing this on social media today.
Thank you, Miss LeAnn!
Happy Sixth Anniversary
LeAnn and Eddie
In 20017!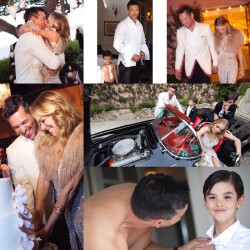 Please click to see a larger version.
LeAnn and Eddie celebrated their sixth wedding anniversary April 22 of this year. Above is the photo LeAnn posted on Twitter, with the following words:
6 for 6! My heart overflows with LovE for these humans. This was one of the most joyous days I've ever experienced
#6yearanniversary #LovE
Congratulations, LeAnn and Eddie!
Happy Anniversary
LeAnn and Eddie
In 20016!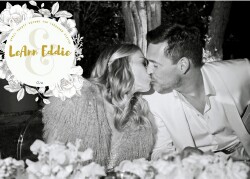 April 22, 2016 was the fifth wedding anniversary for LeAnn and Eddie. With the photo above, LeAnn wrote:
Happy 5 year anniversary to my lover, my friend, my heart, my everything! We have walked through hell and back to be together and wouldn't change a thing. Our bond is like no other. I cherish you!
#anniversary #5years #happy #lovers #friends #myheart #flashbackfriday #fbf
Below is a recently discovered picture of LeAnn and Eddie years ago. With that one, she commented:
I was 14, he was 23. We don't remember meeting. He found this in the garage while going through boxes. 14 years later who know we'd meet again. Crazy, all the life that happened between those two encounters, the lessons that needed to be learned.
Fate? Chance? Serendipity? Who knows? All we do know is, here we are together and tomorrow we are celebrating 5 years of being married and we wouldn't want to be anywhere else.
#crazylove #lovers #friends #partners
#hubby #anniversary #5year
#throwback #throwbackthursday #tbt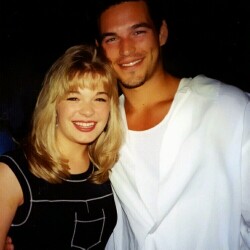 You can see larger versions of either of the two photos above by clicking on them. Congratulations to you both, LeAnn and Eddie! What wonderful words to express your love!
LeAnn Rimes Appeared at
Billy Bob's Texas
April 8, 2016!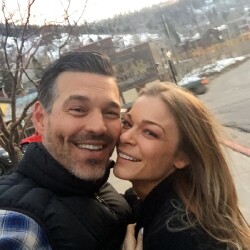 LeAnn announced her concert tour on April 4th via Twitter with: Join me "Under the Influence" w/ music from some of my Legendary TX music heroes & friends: http://www.leannrimesworld.com/live.
Below is the logo graphic for LeAnn's tour, and above is her picture with husband Eddie Cibrian posted March 30 with simply: Vacay #SpringBreak #snow #familytime.
You can go to LeAnn's concert list by clicking the link above, and see larger versions of both photos by clicking them. Welcome back to Texas, LeAnn and Eddie!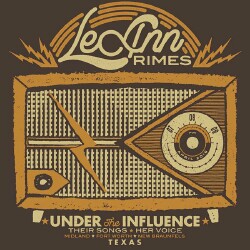 December 1, 2015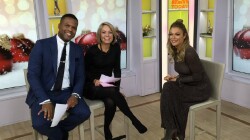 Please click to see a larger version.
Our LeAnn Rimes was all over media at the beginning of December, 2015 with the release of her second annual Christmas album. On December 1, this is what she Tweeted, along with the above photo:
The @Todayshow is using "Today Is Christmas" as their holiday theme song!
#TODAYIsChristmas
Attached to the Tweet was a link to this video, which shows LeAnn singing the song with the Today Show staff. This webmaster doesn't remember any time in LeAnn's career when she has made so many TV apperances so close together.
Congratulations yet again, LeAnn!
December 10, 2013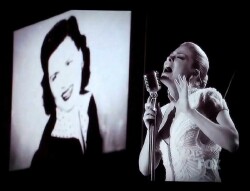 Please click to see a larger version.
Our LeAnn stunned the entire viewing audience when she performed her tribute to Patsy Cline at the "American Country Awards" on Fox. Accolades for her talent and delivery spread throughout the press. You can see that performance on YouTube by clicking here.
There was some talk on the Internet about the fact that LeAnn wasn't wearing her wedding ring. To clear that up, she is still recovering from a gym accident she had with her ring finger in September.
March 22, 2012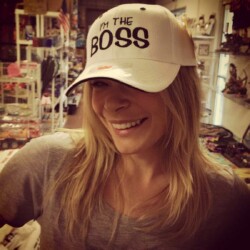 Please click to see a larger version.
Once again, in 2012, LeAnn hosted the Texas Country Showdown talent competition finals. This show was in syndication, and you can click this link to see if there is still a broadcast date and time for your area.
Above you can see a photo of LeAnn in the "boss cap" her husband, Eddie Cibrian, presented to her March 22.
August 28, 2011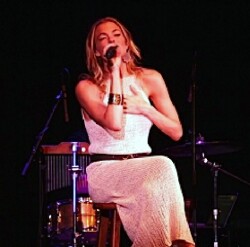 Please click to see a larger version.
LeAnn Rimes turned twenty-nine years old on August 28, 2011! She continues to get rave reviews for her vocals on tour, and her new CD comes out September 27.
True to her genuine capacity for life, LeAnn celebrated the entire week of August 22-28 as her "birthday week." Below you can see a picture of just one birthday table during that celebration.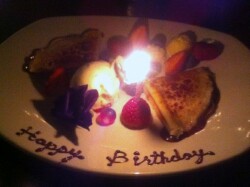 Please click to see a larger version.
April 27, 2011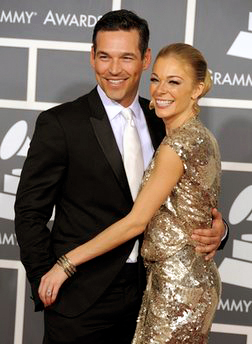 LeAnn married Eddie Cibrian on Good Friday, April 22, 2011. She admits to being incredibly happy, and continues to inspire all of us with her words and music.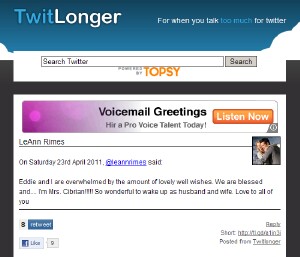 Their wedding was a surprise, but soon spawned immense media recognition. You can see LeAnn's Tweet on the subject by clicking the pic immediately above, and the two graphics below will give you the MSNBC and AOL articles respectively.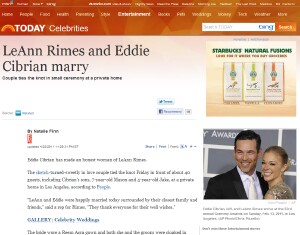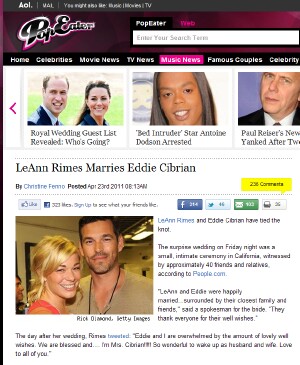 One of LeAnn's main "voices" right now is the Twitter website, to which we have a link just below the picture of her singing the national anthem at the NCAA Men's Basketball Championship Game on April 4, 2011. You can see one of the better quality YouTube versions of that performance by clicking the photo.
One can't help but notice that her kindness, strength and love are ever present. Thank you LeAnn for being both who and what you are!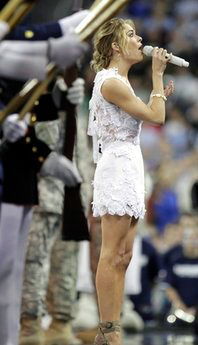 Where Credit Is Due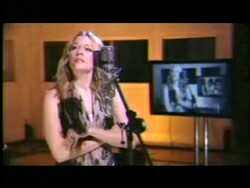 During the summer of 2007 LeAnn gave Janet credit for teaching her to yodel, and thus giving her the break in her voice in the song "Blue" which, according to LeAnn, made the song what it was.
We placed two copies of that mention of Janet (in the Sundance Channel's "Abbey Road") on our Video page. One copy is strictly of the interview itself, and the other is of both the interview and LeAnn's performance of "Blue," which followed immediately thereafter.
-o-
Janet and John With LeAnn Rimes!
LeAnn visited Dallas on May 2, 2007 to do promos and help the "Operation Smile" charity. Janet and John went to visit her at one of the appearances, and received these nice photo ops. Clicking each one will bring up a larger version.
-o-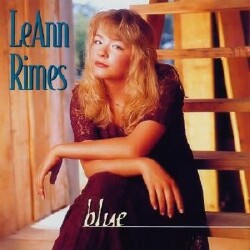 On July 20, 1993, LeAnn debuted her album "Blue" at Number One on the Billboard country chart and Number Four on the pop chart. Click the photo to see the article.
-o-
To get her voice in tip-top shape, LeAnn warms up by yodeling.

From LeAnn Rimes - Teen Country Queen by Grace Catalano, p. 69, © Grace Catalano. Available here.

The picture below links to a YouTube post of LeAnn singing Patsy Montana's "Cowboy's Sweetheart" on Disney. Look for the Mesquite Opry's Junior Knight playing the steel guitar, and LeAnn's magnficent yodeling style.

Janet, you done good!
-o-
LeAnn on NBC!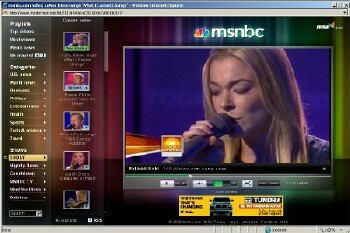 LeAnn appeared on NBC's "Today Show" April 13, 2009. Clicking the photo above will take you to a replay of her performance of "What I Cannot Change." It's awesome!
-o-
LeAnn Receives
Humanitarian Award!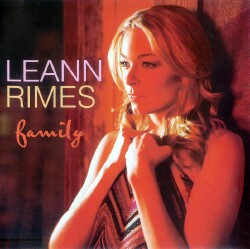 Please click to see a larger version.
LeAnn received a Humanitarian Award at the ACMAs broadcast on April 5th, 2009 at CBS! Congratulations, LeAnn!
As many of you know, our Janet was at the first two ACMAs ever held.
-o-
LeAnn on Lifetime!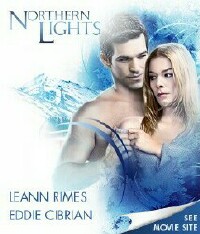 LeAnn co-starred in a major movie for the Lifetime Channel, "Northern Lights" in March of 2009. It it reported to have been the highest rated movie ever on Lifetime! Clicking the photo above will take you to the "Northern Lights" web page.
-o-
LeAnn at the 2007 CMAs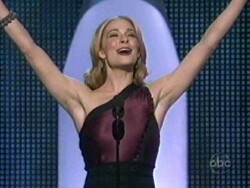 When this webmaster mentioned to Janet his plans for including this video of LeAnn making her humorous remark concerning "no arrests," he told Janet: "you were part of her influence. You had standards at the Mesquite Opry!"
Here is Janet's response:
Sounds good about LeAnn. I don't know how much I had to do with her but the sign stayed on the wall for as long as I had the place. Mostly it said to dress appropriately, no bad words, no bad songs. I don't for sure remember what it said but we did have a clean show.
You can see the video by clicking on the photo above, and see individual screen grabs by doing the same with the pictures immediately below.
-o-
LeAnn on Dancing
With The Stars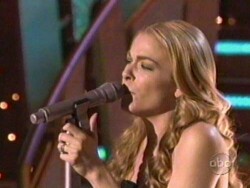 LeAnn made an appearance on Dancing With The Stars November 6, 2007. We created an album of screen grabs from that performance, and you can see it by clicking the photo immediately above.
November 6 was voting day, so some screens will have related messages at the bottom.
-o-
LeAnn With Bon Jovi
LeAnn sang in a CMT special with Bon Jovi on Sunday, June 24th. also in 2007. Below are fourteen screen grabs you can click to view. Janet your influence reaches far!
-o-
LeAnn at the NBA Finals
What a privilege that our LeAnn sang the Star Spangled Banner at the 2007 NBA Finals game two! Below are four clickable screen grabs from that performance.
-o-
LeAnn at the CMT Video Awards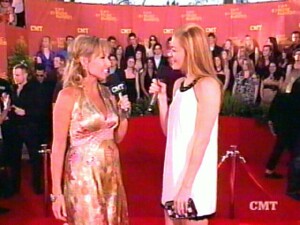 Please click to see a larger version.
LeAnn appeared as a presenter at the April 16, 2007 CMT Music Video Awards. Above is a screen grab from her red carpet interview with Katie Cook.
Below are LeAnn's comments about her red carpet experience.
We left the house at 4:30pm and hit the red carpet by 5:15pm. There were a ton of fans everywhere! I made a stop to sign for everyone before I did my glorious walk for the cameras!
After our walk down the red carpet, where I took pictures with Kelly Pickler and Emerson Drive, Dean and I snuck a quick bite of food in backstage. I then went to my dressing room to find Roseanne Cash sharing it with me, LOVE HER! I ran into Kris Kristofferson, whom always thanks me for recording "Bobby McGee." I continue to tell him it's the best song ever! He shrugs it off, too modest!
You can visit LeAnn's website, and view CMT's page about her, by using the links below.